Astrantias, Inulas and Penstemons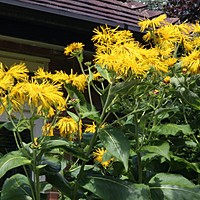 Astrantias are my current favourite plant in the border at the moment. At Charnwood we have a deep red flowered plant next to a red leaved Berberis, the combination works really well. Astrantias self-sow gently, an attribute in my view. They don't take up a lot of room, grow to a metre at most and gently in fill the gaps giving the border a natural look, their heads of tiny flowers are reminiscent of a pin cushion. One of the oldest and best loved varieties is A. 'Shaggy'; it has white flowers with green tips. The colour range tends to be white through pink to deep wine red.
Another favourite of mine, and an underrated one in my view, are the Inulas. This is a big family, most are beautiful big plants with large yellow daisies. There is one growing outside the study window now, in mid-June already standing at about 2 metres tall (pictured). So not a plant for the faint hearted, but a joy if you have the space. Once the flowers have finished the finches love the fluffy seeds. Inulas look good in a semi wild setting too, particularly in damp ditches where they thrive big time.
And finally another beauty in the border is the Penstemon. Related to foxgloves, they are elegant, free flowering plants that reach their peak here in early July and keep on flowering until the frosts arrive. Their hardiness has been questioned, but I have found them to be pretty tough, although fairly short lived perennials. To be on the safe side take some cuttings, it is really easy and can be done any time from now onwards, they root readily. Penstemons come in a range of colours, blue, pink, red and a gorgeous deep red/purple one called P. 'Blackbird'.
There are plenty of jobs to be getting on with this month, here are a few:
• Deadheading: if you let plants flower and set seed, they will assume their job is done, stop flowering and put all their energy into making seed. So deadheading is the answer! Penstemons, sweet peas, cosmos, dahlias, roses and most other annuals and perennials will benefit from a regular dead head ;
• Camellias need watering regularly now to ensure a good show next year. Give them a feed of sequestrated iron if your soil is on the alkaline side, or if the leaves are looking a bit sad and yellow;
• If your bearded iris didn't produce many flowers, now is a good time to lift and divide to rejuvenate them. Pick out some small clumps with strong growing leaves and discard the woody middle of the plant. Make sure you replant them in a sunny spot with plenty of compost and grit for good drainage;
• Plant autumn flowering Colchicum, sometimes called autumn crocus (despite the fact they are not crocuses!). Beautiful , striking flowers appear suddenly just when the garden needs a bit of a lift;
• Keep an eye on recently planted trees and shrubs; if it is dry they will need a regular, generous watering at least for the first year.
But don't work too hard; make sure you take the time to enjoy your summer garden!