Beautiful horse poo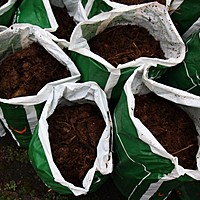 You don't need me to tell you the weather has been bonkers this winter. I can remember some odd flowering companions in the past, but I have never had snowdrops, daffodils, tender salvias from Mexico and delphiniums all out at the same time. See the photo taken on 9 January. It's not a magnificent specimen I grant you, but it is a delphinium flower spike nevertheless.
The weird weather has caused me a dilemma. Peter bought me 40 bags of beautiful, well rotted manure for Christmas*. I know not every wife would welcome bags of horse s**t for Christma from her husband, but it made me very happy. But – and here lies the problem – if I put it on now and it suddenly turns very cold later on, will it cause leggy growth that gets struck by frostbite? For all I know, when you read this in this great newsletter, we may be a foot deep in snow.
Hey ho, what would we have to talk about and look forward to if we didn't have seasons with unpredictable weather? And I do love the fact we have really different seasons in England where plants do different things at different times. That's why I would never have a garden just full of evergreens that look pretty much the same all year round. Also it's why I don't mind messy leaves – they look so lovely on the tree from early spring through to leaf drop. I even like their bright colours when they have fallen onto the weedy grass that passes for lawn here at Charnwood. Spring bulbs the same – what does it matter if they die a bit messily? Plant them among other plants that will cover them up when they are done – daffodils and snowdrops among hostas is a good combo. Neat isn't everything…
I thought I was getting ahead and planted some sweet peas in the Autumn. It did cheer me up, a nod towards Spring on a cold dark evening. It was an old packet, so I should have been less cocky, but I only got one plant through. So I will very soon be sowing some more. If you sow them now you will get really strong plants. Put three or four seeds into a 3" pot and pinch the tops out when they are growing well . Plant them out in well manured soil undisturbed as they are in the pot, sweet peas are hungry and thirsty plants and don't like their roots being messed about. They are a bit hardy so you don't have to wait til the frosts are done. Needless to say some of my Christmas present will be saved for their sustenance!
I've just cut some old lavender back, quite hard but not too far into the old wood. It's a risk at this time of year, or at least that's what I've read, but I can't say I have ever lost a lavender through pruning it too hard. I'm late doing it partly because I didn't have the time in late summer after flowering, but also because flower spikes kept coming right up until November. I'm talking about the old fashioned Angustifolia with a rangy growth and tall, pale lavender flowers. I know most of us plant the newer varieties such as the gorgeous deep lavender 'Hidcote' which is more compact. But there is something about the old fashioned elegance of the old variety that I love. The cuttings came from plants in my Mum's garden, so that makes them extra special.