Bulb catalogues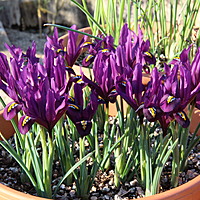 It's that time of year when the catalogues and emails come to us gardeners thick and fast. All of them are trying to seduce us with their gorgeous photos of healthy, productive and/or floriferous goodies to plant and sow in time for the summer. Here's my run down of the crop:


De Jager are my go-to bulb specialists and have been for several years. They have a good range, the quality is excellent and their prices reasonable if you buy in quantity. The Spring 2020 wholesale catalogue has a lovely range of lilies. To give you an idea of cost you can get 25 Regale lilies for £26.35 plus VAT. They also have some unusual bulbs such as Hymenocallis or the Peruvian Daffodil, Dahlias, Iris and many other corms, bulbs, begonias and perennials .
www.dejager.co.uk
   'phone 01622 840 229.
Other good bulb suppliers, but not tried and tested by me for so long, are Farmer Gracy and Hayloft. Hayloft have a wonderful range of unusual plants, I bought a Bladderwort (Staphylea) from Hayloft that I am very excited about. It is a small tree bearing fragrant white flowers in Spring. It is currently doing a dead stick impression, but it's early days so fingers crossed.


Sarah Raven has probably the most beautiful catalogue and some smashing plants. I had some white peonies from her about 3 years ago and they have flowered from year one and then reliably every year since. She is very expensive, but the quality is good. I am currently drooling over her rose selection, and in particular a floribunda called 'Wild Rover'. The description is mouth watering: 'Like crushed silk, semi double, simple flowers in the richest purple'. At £19.95 for a bare rooted rose I haven't taken the plunge yet, but I am weakening! It's not too late to order and plant bare root roses but you need to get on with it if you want them settled in before the growing season kicks in. Sarah Raven also has a great seed catalogue with some unusual offers and a lovely range of Cosmos, Sunflowers, Zinnias and Sweet peas.


Thompson and Morgan offer a good range of plug plants. They include Dahlias, Petunias, Busy Lizzie and Geraniums. Plug plants are really good if you can look after them until they are ready to plant out. I'm not the most adept sower of seeds, so I welcome them as they cut out the risks of buying and sowing a packet of precious seed, only to see them rot in the seed tray, get eaten by mice, or investigated by a destructive dog or cat. But growing things from seed is clearly the cheapest and most efficient way of getting loads of plants if your fingers are nimble and you have patience. 


Planning a new season's planting is really exciting, here's to our beautiful gardens this summer!