My favourite garden writing for April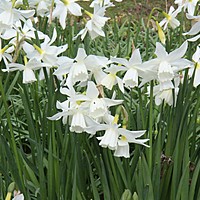 I love the garden in April. So much promise, masses of green shoots and buds, all fresh and new, not too many weeds, the clocks have moved on so the light evenings are longer, wonderful.
Gardening books are a passion of mine, I've often got my nose in one, sometimes when I'm supposed to be doing other things, especially cleaning. So this month, I'm taking you through a journey through some of my bookshelves to see what other, more eloquent and knowledgeable gardeners (surely not I hear you cry?) have said at this time of year:
'I have just seen the most beautiful flowering tree in my life. It was a cherry, Prunus 'Tahaku' with a short trunk from which spread half a dozen strong branches… to span an area of perhaps thirty feet across. .. on the end of each one was a bundle of huge white blossom, hanging like delicate explosions caught and frozen in mid air'
Monty Don, The Ivington Diaries
'The garden in April can be fickle – blue skies one minute and the next the light turns menacingly yellow, the sun almost doused by black thunderclouds. The garden changes minute by the minute, by the hour.. driven by the urgency of Spring. To miss even a day is a loss..'
Beth Chatto's Woodland Garden
How about this, stay calm those of you who are obsessed with a perfect, weed free lawn:
'Moss doesn't create a situation, it merely expresses one. That situation may itself be harmful, as in a broadly drained lawn or it may indicate that, other competitors being in abeyance and the weather right for it, moss is enjoying itself. And why not? Nearly all mosses are pleasant to look at.'
In My Garden, Christopher Lloyd
And finally my favourite garden quote of all time from one of my favourite garden books of all time:
If a garden isn't shaggy, forget it' - Derek Jarman's Garden
The mild weather has meant that at least some of our spring flowering bulbs have done their thing much earlier. We usually have daffodils flowering here at Charnwood until early June. I doubt we will have this year though. I love daffodils and have planted large numbers of many different varieties. One that is a bit later is N. 'Thalia' (pictured). She is a multi stemmed, white flowering beauty with a strong, musky kind of scent. Thalia is elegance personified and flowers reliably every year.