Natural - but contrived!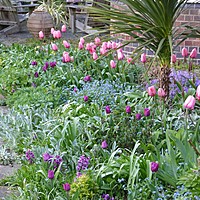 We've a long-ish south-ish facing border at the back of our house that gets the sun for most of the day. The soil here at Charnwood, like most of this area in Nottinghamshire seems to be, is heavy clay, so we ladle mulch and/or grit on as often as we have the time, energy and dosh to do so. This border is long established and has been well loved over the years, so the soil is decent and reasonably free draining. This makes it able to provides a good home for sun lovers such as iris, spring bulbs, salvias, lavender, sedums and those lovely, felty and grey lambs ears that we use for edging the paths. We keep the planting fairly low and gentle as the house wall is behind it and, when the wind whips in from the south west, it hits the back wall and charges full speed back into anything too tall or dense and flattens it.
I love a natural looking border (even though the look is contrived) so self seeders are a firm favourite. Welsh poppies follow forget me nots, then come love in a mist and foxgloves. Aquilegias, or granny's bonnets, dot themselves around, looking really pretty in the gaps among the perennials.
Last Autumn I treated myself to a decent quantity of bare rooted aquilegias, soft reds and purples, and I will be planting them out in this border early this month. They were put in little pots and well watered to get them going on arrival and have overwintered in a sheltered spot; I think most have survived the chilly winter, fingers crossed. I have been fascinated by many plants since I was a little girl, and the story of Granny's bonnets is lovely. The other name for them is columbine and they take their names from the Latin for two very different birds – eagles (Aquilegia) and doves (Columba). The flower heads are supposed to look like birds with outspread wings and arching necks; I think I like Granny's bonnets as a description best but take your pick! At the Malvern Spring show last year one of the stars was a fabulous bright orange aquilegia with red and yellow flashes. Aquilegias are not normally a showy 'look at me' presence in the border: more of a gentle but pretty understudy. However this one shines out big time. I only hope it gets through to spring this year without the dog weeing on it, or someone's boots accidentally squashing it. Oh the trial and tribulations of an obsessive plantswoman!
Vegetable gardening is neither mine nor Peter's forte, but we are planning to have a go this Spring. I will be sowing some tomato seeds this month, most good gardeners would say it's too late, but I find if they are started too early, they get leggy and never really do well. My favourite is 'Sungold', a cherry tomato with the best flavour, perfect for pasta sauce or in salads. Some Pink Fir Apple potatoes are chitting on the windowsill, described as 'long, knobbly pink tubers with a creamy, waxy frim textured light yellow flesh'. They taste good too.
Sometime this month overwintered dahlias go into pots to wake them up and get them moving a bit. I find if they go into the border as decent plants growing on well they flower earlier and are less likely to be got at by slugs and snails who tend to enjoy the newly emerging, tender young shoots best. The tubers get a good going over first; any mushy old tubers are cut off. Give them a decent water and leaves soon appear. A kind pal gave me a gorgeous pink cactus flowered dahlia last year, I can't wait to see it do its thing again this summer!