Roll up your sleeves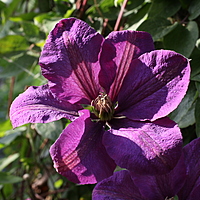 I've been honing my pruning skills. As with many things in life, I've learned that if you read up on it, get the right tools and have a go, it's not hard. I'm especially proud of my winter flowering Viburnum, the one with the beautifully scented pink flowers: they smell of sweet almond to me. I cut the really old wood down to the ground and removed unhealthy or crossing branches. Then it had a gentle prune to get it into a decent shape and a feed and mulch. Please don't just get the hedge trimmers to lob off the top of your early spring flowering shrubs, you will end up with a dumpy, congested lollipop full of dead wood. Most trees and shrubs have their own graceful habit which is a joy to see.
You can prune other things now, but not the later spring flowering shrubs such a Philadelphus (mock orange blossom), or you will cut off the flowers when they are  just about to do their thing. If in doubt, a rough rule of thumb is to prune after flowering has finished.
April is the month for us gardeners to roll up our sleeves, don the wellies and get out there. If you tackle the jobs now you will save time and energy later. Here are some ideas:
·         Keep the weeds down. Hoeing is a good way of weeding if you don't want to encourage self- seeders such as forget me nots or poppies. If so, a trowel, a large bucket, a kneeling mat and a regular mug of tea and a stretch are all necessary and good.  I need a radio tuned to radio 4 too, but that may be just me;
·         Mulching is a good way of keeping weeds down and keeping in all that moisture. We invested in some Strulch recently. It's expensive so we won't be getting it every year, but it lasts, looks reasonably good and helps condition the soil. If you use your own compost, make sure it doesn't have too many weed seeds in it. Leaf mould is usually better and more likely to be weed free. Be careful with coco shells, they look and smell nice but they are lethal to your dog if s/he eats them;
·         You can get sowing in the ornamental and vegetable garden this month. I know many people will already have tomatoes growing on well.  I leave it until now to sow so I'm not faced with tall straggly things that have grown on too quickly and I've not space in the greenhouse for them. Annuals such as Californian poppies, cosmos (pictured) poached egg plant and night scented stocks are my favourites but there are many to choose from;
·         Give your plants a feed if you haven't already. Clematis love sulphate of potash as do many plants. Last year I got some specialist rose feed and it really made a difference;
·         If you love new potatoes now is the time to get them going. As our soil is heavy and full of slugs I've given up trying to grow them in the garden, so I planted just 3 'Orla' babies in a large pot last year. I planted them quite deep, kept them watered and added another layer of soil from time to time as they grew up and it really worked. The crop was heavy and the potatoes were yummy and free of slugs;
·         Watch out for that bloomin' red lily beetle, it will decimate your precious lilies in no time;
·         Get some summer bulbs in: a garden without Alliums is bereft! They like a well- drained sunny spot according to the books but they seem to pop up everywhere here.
And enjoy your garden at this lovely time of year!