Salvia and compost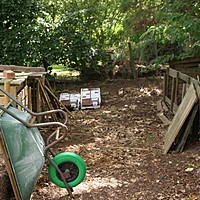 One really good plant for late summer colour is Salvia. This is the same family as the sage we use in cooking, but it is a vast genus. I'm not so keen on the dumpy little bedding ones that you see in bright colours, often set out in more formal planting schemes. I'm talking about the perennial salvias. Many are tender, originating in Mexico, so need to be given frost free shelter over the winter. I have a gorgeous red flowered one, its flowers look like they are made out of velvet. I keep it in a pot so I can pop it in the greenhouse, it has survived and thrived like that for a couple of years but I think I may have to pot it on this year.
The one most easily available, and fairly hardy, is S.x superba. It's flowers are the most gorgeous, rich, deep blue that combine wonderfully with most things. I have it next to a pale lemon Achillea with grey leaves, it looks lovely for a long while if deadheaded. Another gorgeous, rich blue one is S. guaranitica 'Blue Enigma'. It stands around 6 feet tall in a good year, really striking. It sits next to a massive yellow flowered Inula here at Charnwood and stands its ground well. A third, softer and more purplely blue salvia is Purple Rain.
Then there are the smaller, shrubbier versions. One that has been in vogue this last few years being S. 'jamensis Hot Lips'.If you look closely it is not hard to see how it got its name! If you feed salvias and give them a sunny, sheltered spot they will flower from May to October.
August and September are really good times to take cuttings. If you haven't tried it before it is really easy and costs you nothing apart from a little compost and some TLC time. Geraniums (the tender pelargoniums) are the easiest of all. Cut off a stem roughly 5"/ 12cm long, a non- flowering one if you can find one, strip off the bottom leaves and pop them around the edge of a pot of gritty compost. Keep them damp but not really wet or they will rot. Within a few weeks you will see little white roots coming out of the bottom of the pot. You can them re pot the cuttings individually and keep them frost free over the winter. Lavender, salvias, rosemary, shrubs such as box and myrtle, penstemons, diascia and fuchsias to name a few can all be raised this way. It does help if you pop a plastic bag over the top to keep humidity up, but I don't usually bother and I get a good rate of success. Just don't let them dry out and mist the pot every day or so.
Don't forget to keep your compost heaps going. A good mixture of grass clippings, shredded paper and general border tidying material is best so the heap stays not too dry but not too sodden either. Don't put in perennial weeds. Many years ago I saw Geoff Hamilton re- plant a dock he had dug up and nailed to his garden shed a year beforehand; it regrew! Don't add diseased plant material either, you may be spreading it round the garden. We put in our vegetable and fruit peelings too, but nothing cooked or you may get rats.Home made garden compost is magnificent stuff, it feeds the soil and improves the texture better than anything else. It's free too!
Here's to a hot and dry August – we live in hope!