Stoneywell and Christmas presents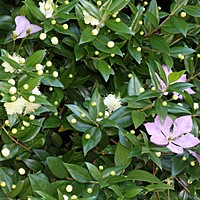 In October we visited a National Trust property newly opened in Markfield, just outside Loughborough called Stoneywell. It is really unusual, partly because of the viewing arrangements. Parking is in a field about half a mile away, and you get ferried to it by minibus. You then have a guided tour of this small but fascinating place. It was owned by the Gimson family, one of whom lived it until very recently. It is described as Arts and Crafts, all the furniture and decorations are very much in that style, so it has a light and airy, rather peaceful atmosphere. The house itself is a short walk from the road and is built into the side of a stony hill, so on one side it looks like a single storey building. The guides are very knowledgeable about the house and the family's history and you will need to allow about 45 minutes for the tour alone. The grounds are wild but beautiful; lovely trees, heather and bracken, all in typical, gently rolling Leicestershire countryside. Stoneywell also does good cake, crucial to any visit. If you have a disability or are not very mobile it would be worth asking about access as the stairs are very narrow and steep. The website where you can book is http://www.nationaltrust.org.uk/stoneywell or you can book by 'phone: 01530 248040. Booking is essential, you can't go on spec but it is open all year round.
Outside the front door was an evergreen bush I kind of recognised as a myrtle but wasn't sure. It turned out to be a small leaved myrtle. The tour guide (rather surreptitiously so don't tell) pulled me off a tiny cutting which has survived so far. I cut the end off cleanly below a leaf and stripped the lower leaves off when I got back and popped it in a pot in some gritty compost. I'll keep it damp but not too wet overwinter in a frost free place in gentle light. I have a common myrtle outside my back door (pictured): its leaves have a wonderful scent and the flowers are little and very pretty. The big flush arrives in summer and then they carry on, albeit sporadically, right through until now. It makes a decent hedge too I'm told.
I mention Stoneywell here because in my humble opinion we aren't very well served for NT properties in our neck of the woods. In my quest to come up with unusual and helpful suggestions for Christmas presents, National Trust membership may be a good one? Hidcote is not that far away and is a gorgeous garden, and there are Belton House and Clumber Park to name a couple more. If you spend a week away down south you can get your money's worth from membership easily in a week but that may or may not be an option for you.
A good gardening book, with a glass or two of something tasty, will keep me happy and reasonably quiet through a good chunk of Christmas. Two RHS books caught my eye while browsing – 'Botany for Gardeners' and 'Latin for Gardeners'. The first is 'written for those interested in gardening but 'with a desire to dip a toe into the science behind plant'. The second is self-explanatory: both are well illustrated and cost £14.99. I'm a big fan of Vita Sackville West and her book simply titled 'Some Flowers' is available again. First published in 1937 it is £9.99 and describes 25 of her favourite flowers, all beautifully illustrated. A couple of stocking fillers: 'How to Cook Compost' is a guide to making the fab stuff from the National Trust at £5.99 and a little green book entitled 'Inspiration for Gardeners at £4.99. The last book is full of quotes from the wise including this from JK Phillips: 'There are no gardening mistakes, only experiments'. Hear, hear to that!