This hot summer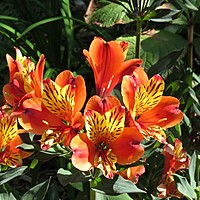 The hot summer has really sorted the sun lovers from the rest in the garden this year. Our Indian Bean Tree (Catalpa) has been glorious and actually now has beans: they followed on from the masses of elegant, loose racemes of white flowers. We have had sunflowers the size of dinner plates and now in early autumn, Dahlias, Rudbeckias, Verbena bonariensis, tobacco plants, Cleomes and gorgeous red Alstroemeria (pictured) are making a gorgeous show. I've not done a scientific study but experience has made me think that the secret to survival is to follow the 'right plant, right place' mantra. Where the garden has looked less good is where I have taken a risk and, for example, planted something in a spot on the dry side when it needs a shadier, cooler position. Well looked after beds also did better here – there is nothing like a decent, regular and generous application of good garden compost to keep the soil, and therefore things living and growing in it, happy and well.
Not thriving so well are our new acquisitions of hydrangeas and we have been lugging cans of water to them for a big chunk of the summer. Fingers crossed they survive.
I had a better go at growing some vegetables this year. Runner beans, chillies and tomatoes have been delicious. We have nearly drowned in courgettes. This from Christopher Lloyd's excellent book 'Gardener Cook' rang true:
'There are courgettes of course, but unless you gather them daily they enlarge into the marrows they really are. I don't like being hounded by my vegetables ….. Sometimes it's nice not to have to think about them daily. Life is already complicated with dogs and cats, not to mention humans'.
In order to use them up I had a look for courgette rich recipes on the net. One has been a real success and is really quick and easy: 400g of courgettes and a 225g pack of haloumi, both grated.; it's a bit messy but don't worry, it will hold together well enough. Add 200g of flour, 1 teaspoon of baking powder, a pinch of dried oregano and the zest of a lemon. Mix all the ingredients together and form them into patties. Fry gently in olive oil, a few minutes each side. I popped them in the oven then for about 20 minutes to make sure they are cooked through and crispy. Makes about 16.
Bulbs I ordered in July have been arriving – much excitement ensues (well from me at least, Peter prefers the almost daily delivery of the latest gadget from the internet: each to their own I guess). I bought gorgeous white triandrus (multi headed) daffodils ' Moonlight Sensation' and bright red tulips 'Havran' from Peter Nyssen www.peternyssen.com 0161 747 4000. There are more to follow; as you may have gathered I absolutely love spring bulbs. The daffodils are already in the ground - the sooner they are in the better. Tulips are best left until the end of this month or they may not thrive. I will do my usual trick of soaking them in tonic water containing quinine to try to stop the squirrels from munching them all – it does work to a reasonable extent. The little critters always seem to head for the most-cherished-and-very-expensive tulips.