Posh pots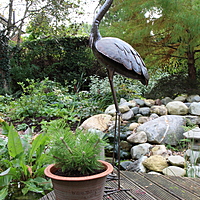 If you were watching Gardeners' World mid-October (and if not, why not I ask?) you will have seen Monty Don planting up some spring bulbs in rather posh looking terracotta pots. A close inspection I'm pretty sure, would have revealed that they are from Whichford Pottery at Shipston –on-Stour in the Cotswolds. They have a very distinctive stamp all around the neck of the pot. We paid them a visit a few weeks ago and, wow, what a find. 
The pots are expensive but really good and guaranteed frost proof: not 'frost resistant' the rather non-committal way less expensive pots are described. Don't get me wrong, I've bought many cheap and cheerful pots and enjoyed them for a year, possibly two. But they rarely last longer than that as my ever growing pile of broken pots set aside to be used as crocks in the bottom of pots will testify. So a visit to Whichford was a rare treat. Their display of planted up pots was wonderful. It seems that most plants can look good in a pot! So we are now the proud owners of several lovely new ones planted up with tulips, crocus and little daffodils. Peter fell for a large one that is now home to a new dwarf pine (pictured beside bronze heron legs!). This is to add to our Japanese themed pond and woodland garden. I've also got some azaleas in pots nearby so I can give them the ericaceous soil they like. The food at Whichford was delicious too, definitely worth a visit. If you get there and get the chance to have a look round the pottery workshop, I can recommend it too. The pots are all hand made on site. I would avoid the compost loo if I were you but perhaps that's too much information…. 
Talking of spring bulbs, I'm a sucker for daffodils. I bought a bag of Narcissus 'Exotic Mystery' from Hayloft plants. They were so beautiful in the catalogue I couldn't resist and what a name! Now is a good time to get bargains from garden centres as the planting season is well underway. You can plant tulips really late on: in fact October/November is the best time. I heard Pippa Greenwood on GQT say she'd planted tulips as late as February and they flowered and have continued to do so for many years. Just make sure they are reasonably plump and not all dried up or mouldy and they will be fine. We have a real problem with squirrels and mice eating bulbs here so I usually soak the bulbs in tonic water with quinine in before I plant them. It doesn't always work but it's worth a try. I've also chopped up some of my fresh chillies this year and covered the pots with that. Fingers crossed! 
I've been collecting seeds to sow for next year, including Tithonia, evening primrose, perennial stock and Welsh poppy. If I have any seedlings spare, I share them with pals or sell them on one of my charity plants stalls next year. Many thanks to Jean who donated me a lovely pile of clean pots, they are being well used and for a good cause. I am also keen to get some more wild flowers into our little meadow so have pinched some wild carrot seeds from the country park. The wild flowers there have been fabulous this year. 
This is a good time to buy bare root plants such as roses and fruit trees as they are cheaper and establish really well if planted now. Yet again, I have been seduced by the David Austin catalogue and have bought some wonderful roses, including a gorgeous deep apricot one called 'Morning Mist'. I will soak them in water for a few hours before planting and give them a yummy new home with plenty of compost and tlc. 
Happy gardening!