Rain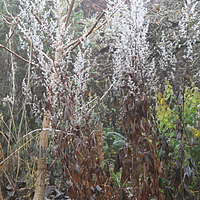 I'm sure we are all heartily sick of the rain. I can't imagine the misery of being flooded, but it's an experience all too real for some people this year. Farmers too must be counting the costs of such wet weather on their crops. 
On a much less serious note it's not brilliant in the garden either, but at least we can wait until it dries out and rainwater does have its uses. Ericaceous plants such as Camellias, Blueberries and Azaleas all prefer rainwater to the stuff that comes out of the tap. Orchids love it too. If you rake up damp leaves and put them into a bin bag they will turn into leafmould. This makes wonderful mulch: it takes at least a year to rot down completely but it really is worth the wait. We've got containers roughly put together with some wooden stakes and chicken wire to tip the leaves into. They decompose slowly, basically by turning mouldy. That is why it takes much longer but the wet weather does help. 
On an entirely frivolous note, my Grandma used to rinse her hair in rainwater. She said it left her hair feeling lovely and soft and fresh. I did try it when younger. Now I'm getting on a bit it seems like an activity best kept to the warmer months! 
Wildlife writers are all advising us not to be too tidy over the winter. A wide range of creatures benefit from leaving a few leaves, dead perennials and other garden debris around for shelter and food. We had a bumper crop of apples this year so there is a slightly manky pile of them left under the hedge for the blackbirds. They are enjoying a spot of lunch from them right now outside the study window: the more rotten they are, the better they seem to like them – yummy! We had a far bit of tree work done last month so there are also a few more piles of logs and twigs for frogs, toads and hedgehogs as well as the many little invertebrates that call our garden home; it is a privilege for us to be able to share their home. 
Looking for ideas for Christmas presents for gardeners? Peter bought me a copy of Beth Chatto's biography for my birthday last month. Catherine Horwood was commissioned to write it by Beth herself before she died in May 2018, well into her nineties. I often find biographies a bit disappointing to be honest; they can be lengthy, rather dry and so a bit of a trial to get through. Not this one: it is stylishly written and really well researched. Exerpts from Beth's own diary help to demonstrate her lively and passionate approach to life. The book unearths not only fascinating details about Beth's life with plants and her many travels, but also details about her rather (for the time at least) unconventional love life. Beth's garden near Colchester is still open for visitors and is glorious. She was the first to make the 'right plant, right place' idea popular, which is demonstrated very well in her own garden as well as her many books. I also have her wonderful book about woodland gardening, and another entitled 'The Dry Garden'. Both are still in print today. 
I hope you have a restful, fun Christmas and Santa is good to you. If s/he is listening, 
 my favourite stocking filler is a decent size ball of string to tie up my climbing plants. I'll be back in February when the snowdrops will be out and all the gorgeous spring bulbs will be pushing through the soil. All the best for 2020!