Roses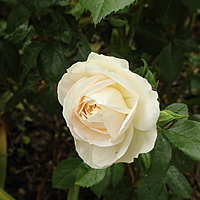 Over the last few years we've accumulated quite a decent collection of roses and their time is coming! Here are some of my favourites:
The earliest is 'Canary Bird'.  It is a shrub rose and usually only flowers once, but it is a sight to behold with its bright lemon, single flowers and pretty fern like leaves that are unusual for a rose.  We have it hanging over a low wall at the front of the garden. 
'Adelaide  d'Orleans ' is a rambler, we have it growing through an old apple tree. The clusters of little buds are pink, opening to white, they cascade down to produce a weeping effect.  For a few short weeks it is the star of the show.
'Laura Ford' is a short climber, repeat flowering rose with small yellow flowers, tinged with pink as they age.  She is a lovely thing in herself but she also comes with a gorgeous tea rose scent.  We have it outside the French doors in the study and if we leave them open the perfume travels right through the house.  
A less well known one is 'Biddulph Grange', a beautiful single red shrub rose.  We bought it many years ago when we visited that National Trust garden on our wedding anniversary and it has grown well and flowered reliably all summer ever since. This is a quite a tall, upright rose.
'Skylark' is smaller, soft pink modern shrub rose: probably my favourite last year. The blooms are exquisite and the plants we bought from David Austin are healthy and vigorous.  That has flowers around late June, has a bit of a rest and then flowers sporadically until late autumn.
Our latest acquisition, and spotted on a day out with Peter, is 'Champagne Moment' (see photo).  A kind of ivory cream with big, double flowers it is the kind of old fashioned rose my Mum liked!
A magnificent shrub rose with amazing deep purple blooms is 'Wild Rover'. That purchase was from Sarah Raven:  again a lovely plant that established quickly.
Last but not least, that fabulous Gallica Rose, 'Tuscany Superb'.  It comes into leaf very late and the flowers are a sumptuous deep, velvety red.  It only flowers once so it may not be best if you have a small garden as the show is soon over, but it is a beauty.
I could go on but I hope that gives you a taster.  We usually get our roses bare root and plant them out in a mild spell in late winter or early spring.  You can buy them in pots any time though, but  you will need to be prepared to water them throughout their first season at least.  A good feed in Spring and then again mid-Summer keeps them going and flowering well. Pruning depends on the type of rose but there is plenty of advice on line or in print. Be bold – roses ore tough old plants!
We underplant our roses to hide the bare stems: good companions are the scrambly kind of hardy geranium, catmint or lavender.  Clematis can be planted through climbing roses as long as you are prepared to tackle their different pruning requirements.
Enjoy!