Wildflowers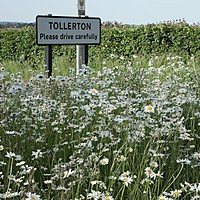 There has been a gorgeous display of ox eye daisies on the corner of Cotgrave Road and Cotgrave Lane of late (see photo mid June).  A classic sunny meadow resident, it shines clear and bright in the sunshine, lifting the spirits.  It is the kind of daisy a child might draw, simple, and just lovely. It makes me so jealous: I bought a special pack of seeds from Great Dixter Nurseries. A very few germinated and even fewer survived my clumsy pricking out and planting in our little meadow.  Have they thrived? No. Is that bloomin' fair: No. And to add insult to injury there are a huge bunch of them living happily and spectacularly a few metres up the road.  Huh.


Having said that I may be premature.  I went through the same procedure with that lovely little Gallium odoratum, also called lady's bedstraw. I got it going, planted it in a woodland setting it is supposed to enjoy and – you guessed it, it disappeared. Then, a couple of years later it popped up in an entirely different part of the garden, looking perfectly content and very pretty.  So perhaps my ox eye daisies will proliferate soon in another spot of their own choosing. I live in hope.


Wildflowers are definitely in vogue at the moment and that is good news, not only for us but for our environment. Here are some of my favourites:


Comfrey: the bees love it and, if chopped up, stuffed into a bucket and topped up with water, after about 3 weeks it makes excellent plant food, especially good for tomatoes.  Use the feed sparingly as it will pack a punch: a cupful in a large watering can is fine. Put a lid on it though, it smells disgusting;


Herb-Robert: a tiny, pink hardy geranium that seeds around gently and makes pretty groundcover in a little corner or in a pot of taller plants;


Wild carrot: this is the plant that makes a magnificent show at Cotgrave Country Park in the summer.  It looks like a kind of refined cow parsley;


Sweet Cicely which is actually related to Cow Parsley.  She will survive and self- seed even in a little shade.  A really graceful plant and perfect in a woodland setting;


The Welsh Poppy: this little plant with ferny leaves, lifting any border with its cheery yellow and occasionally orange single flowers over a long period;


Purple loosestrife: fond of damp conditions, tall, purple flowers on straight, narrow big strong stems that don't need staking. A real star around July time;


Clover: we have both the red and white in what we laughingly call our lawn, these plants are covered in insects on a sunny day.  It is so full of nectar that even the bees with short tongues can reach. Clover is a good companion to self- heal which has gorgeous rich purple flowers.  Both are short so will obligingly duck down if you don't mow too close;


Jacobs ladder, with beautiful cobalt blue flowers, another non- invasive self -seeder.


There are loads more I could enthuse about so if this whets your appetite go and pay a visit to the wildflower farm at Langar, there are acres of gorgeous wildflowers to walk amongst. Good cake too.
https://www.naturescape.co.uk
tel: 01949 860 592